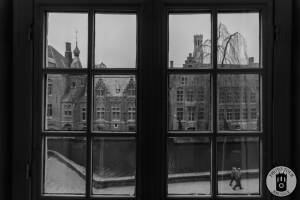 Name – Hotel De Tuilerieën
About – An elegant patrician house from the 15th century has been transformed into a luxurious, contemporary hotel. Hotel De Tuilerieën counts 45 unique rooms. All rooms combine modern comfort with authentic charm. The enthralling location along the most beautiful canals of Bruges "De Dijver" immediately immerses you in the enchanting atmosphere of the historic city. (from website)
Where – Dijver 7, B-8000 Brugge
Room Number – 13X + 135
Best Shooting Light – mid morning & all afternoon
Shot With – Nikon d800 + Zeiss Distagon t* 15mm.
Camera Settings – 10mm, 1/280sec + f8 @ISO 200, crop to 16×9 ratio.
Shooting Notes – All rooms in floor looked suitable for these views. Shot mid-afternoon in January with some low-season foot traffic, a wide open view of De Dijver with Bourgogne De Flanders & De Orangerie generously adding to this stunning view of beautiful Brugge. Also a nice view of Sint Salvator's Cathedral and of course the pedestrian area flowing down the street, watch out for the flagpoles & lamps if shooting wide!
Room Notes – Classical decor with comfort and clean energy overflowing, definitely see the fine work of a significant overall refurbishment in 2016. While the 15th century windows are easily (but carefully!) opened and lovely to behold, be glad to know there's modern triple-glazed windows to significantly help to mute (somewhat considerable in season) sounds from traffic like horse carriages & foot traffic.
Hotel Website – click here
More Photos from Hotel De Tuilerieën
(These photos will be added to and updated over 2018/19 for the seasonal changes)