About This Spot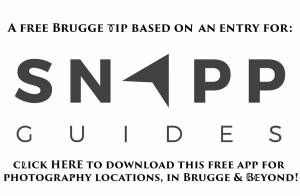 The upper floors of the former main post office is, since 2014, home to the Bruges Beer Experience, offering an immersive experience for both the camera and the other senses for the history of Belgian beer and the brewing process… Including a tasting of course! A great spot for iconic beer imagery as cameras are welcome. Kids will also have fun here, especially with the provided iPad.
(This post is from my guide for photography locations in Brugge with SNAPP Guides.)
When To Go
Open daily from 10:00 till 6:00pm.
Time To Shoot
Crowds are at a minimum during the morning both in the cafe and museum. However, if looking for sun to come in through the windows you'll likely want late afternoon.
What To Shoot
The exhibits in the 2-floor museum are definitely the main draw; they are rarely under glass and generally have favorable lighting. The top floor is a giant loft with a wide variety of exhibits that offer tastes and smells and sights.  You'll full experience the feeling of a brewing floor with high-standing vats (excellent indoor displays inside) and brass vats among other classy fixtures of beer equipment. Also some interesting possibilities for Market Square photos through the cafe bar windows, and the cafe itself is a visual treat.
Good to Know
With such great details to shoot in the museum and cafe, don't hesitate to bring wider lenses for both those details as well as the building interior itself. A monopod or tripod is allowed (and recommended, but not always required) for the lower lighting of the top floor and stairways if shooting at low ISO.
Recommended Gear
Lenses: Wideangle, Midrange zoom, fast prime lens.
Camera Settings: High ISO as needed, open/low-numbered aperture.
Tripod: Allowed, but please ask first and be considerate to foot traffic.
More? See my suggestions for which photo gear to travel with via this link.
Recommended on the Beer Menu
There's plenty to choose from here and in Belgium it gets serious.... Feel welcome to ask at the bar and be informed on the beer in detail, and if you're asking what I like: Bruges Tripel is a strong but lovingly full-bodied delight, otherwise a Palm Royale is well worth a try.
Photo Gallery: The Bruges Beer Experience
(Photos by your instructor & guide Andy McSweeney)
(More Brugge photos? Click here.)
Getting There
 Easily found right next to the main Markt Square, look for the small but distinct entrance on Breydelstraat and climb up the stairway to the top for the Beer Experience Museum or 1st floor for the gift shop and main cafe bar.